by Semjon Kalinowsky (viola) and Paul Kayser (organ)
Following the rich tradition of the Jewish liturgy and the synagogue organ, this programme unites the great classics like "Kol Nidrei" by M. Bruch and "Prayer" by E. Bloch with the valuable but forgotten works that we discovered owing to our intensive research. Our main objective is to forge links between tradition and modernity. Thanks to the composers Jehan Alain and Hermann Berlinski it seems to come true.
The concert programme "Jewish Prayer" offers a rare constellation of two musical instruments – organ and viola – and this constellation is supposed to promise an exceptional sound experience.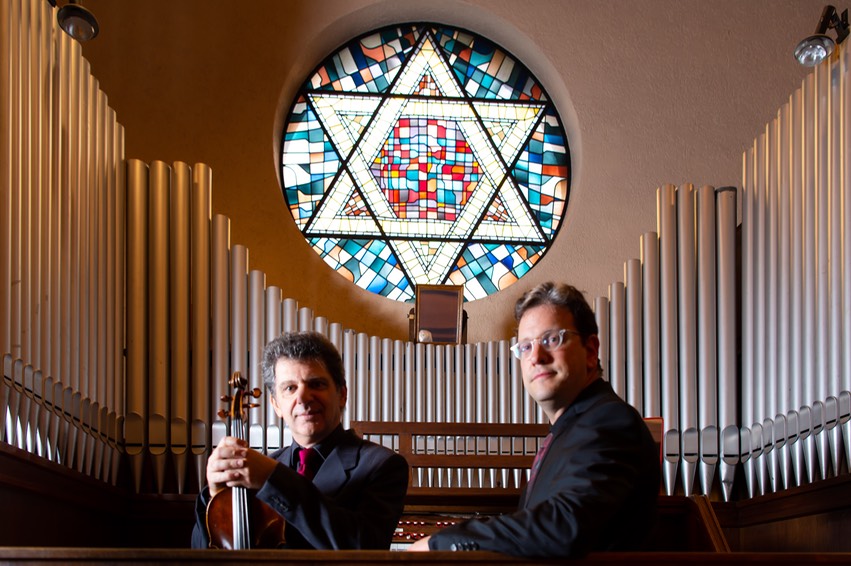 BIBLE POEMS
Ernest Bloch (1880-1959)  
"FROM JEWISH LIFE" (No. 1), PRAYER (click to hear)
Jaromír Weinberger (1896-1967)
BIBLE POEMS
• Abide with Us
• Lord Jesus Walking on the Sea 
• The Marriage in Cana of Galilee
• Hosanna
• The Last Supper
• Hear, O Israel.
Max Bruch (1838-1920)
KOL NIDRE op. 47  10.Min
Siegfried Würzburger (1877-1942) 
PASSACAGLIA und FUGE über Kol Nidre 8.Min
Maurice Ravel (1875 - 1937) 
KADDISH
Jaromír Weinberger (1896-1967) 
DEDICATIONS : 5 preludes for organ
• Miriam
• Rachel
• Ruth
• Deborah
• Esther
Joachim (Yehoyachin)  Stutschewsky (1891-1982) 
6 ISRAELI MELODIES
• Legend
• Raindrops
• You The Earth
• Oriental Melody
• Prayer
• Wanderers Song